Partners Bulgaria Foundation was created in 1998 as the Bulgarian center of the international network Partners for Democratic Change.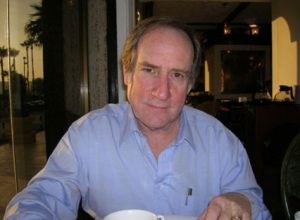 Partners for Democratic Change was established in 1989 by Raymond Shonholtz.
In 1976 after serving as a Public Defender in California, Ray Shonholtz established and served as President of Community Boards – one of the first community and school mediation initiatives that brought conflict resolution skills and processes into neighborhoods and schools throughout the U.S. and internationally.
In 1989, Ray Shonholtz established and served as President of Partners for Democratic Change, an international organization committed to building sustainable capacity to advance civil society and a culture of change and conflict management worldwide. The orgnaisation was registered and started its work in San Francisco, California.
Responding initially to the monumental c
hanges in Central and Eastern Europe, Partners established Centers across Europe, the Americas, the Middle East, and Africa in this way generating and supporting sustainable capacity and local competences to address governmental, business, and civil society disputes, conflicts, and change issues through mediating processes and programs. Appreciating that democratic change and civil society building required new and acculturated skills and methods, Partners established from 1991 to 1994 six national Centers led by trained, local professionals, whose expertise over time would replace the need for expatriate consultants. Initially, Partners located the Centers with their conflict management curricula, training programs and projects with in major local universities in Poland, Lithuania, Hungary, Czechoslovakia (Centers in Bratislava and Prague before the separation), and Bulgaria. The university venue proved a fertile ground for introducing new idea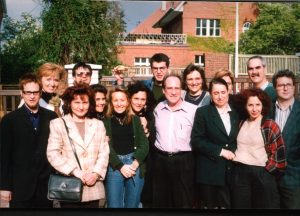 s to emerging democracies. In Bulgaria, the  Conflict Resolution Center was attached to the Civic Education Chair at Sofia University "St.Kl.Ohridski".
Today, Partners is the largest and only global change and conflict management institutional building organization. What began as an experiment within academic institutions is now an expanding, innovative international organization with 22 Centers.
Becoming independent NGOs with unique specializations, the organizations share common core competencies, enabling them to train citizens, government officials, non-government activists, and business leaders through in-country and regional training initiatives, and to apply their mediating and collaborative expertise and methodologies to public disputes and issues.
In 2007 The Association for Conflict Resolution's International Section (ACRIS) presented Partners for Democratic Change with the Outstanding Leadership Award in 2007 in recognition of that organization's work building sustainable local capacity to advance civil society and a culture of change and conflict management worldwide. Partners for Democratic Change received the JAMS Foundation's Fourth Annual Warren Knight Award in recognition of Partners effectively managing and resolving conflict and for assisting emerging democracies throughout the world to advance a civil society.
The network secretariat in Brussels. In 2006 the members founded Partners for Democratic Change International /PDCI/, a non-profit association under Belgian law, with a commitment to sharing their knowledge, expertise, and skills to strengthen one another, advancing their national, regional and international work, and forming an alliance that will enable others to be enriched by their peace, justice and civil society work locally.
Partners Bulgaria's Director – Dr. Daniela Kolarova – helped establishing the coordination office in Brussels and served as the Network Director from 2006 to 2014. Under her guidance the office in Brussels developed a strong peacebuilding program and engaged PDCI in many international initiatives and partnerships in the Middle East, Europe and Latin America.
In 2016 the network changed its name to PartnersNetwork and updated its logo.
Today Centers are prominent institutions in their home countries, supporting civil society, inter-ethnic relations, network building, mediation, anti-corruption reform, youth and women's leadership, local government reform, and many other initiatives.
Partners' centers are in a close partnership, pursuing a common mission while maintaining individuality their local independence. All centers are dedicated to supporting people as they strive to make the great changes facing their societies peaceful, effective and sustainable.
PartnersNetwork members have worked on five continents and in more than 50 countries. They have developed and then shared many programs with each other throughout the years, such as: anti-corruption expertise from Romania, extractive industry conflict resolution from Peru, participatory budgeting from Jordan, community mediation program from Bulgaria and countering violent extremism from Yemen.
Partners centers are in Albania,Argentina,Brazil,Bulgaria,Colombia,Ecuador, El Salvador, Georgia,Hungary,Iraq, Jordan, Kosovo, Lebanon, Mexico,Nigeria,Peru,Poland,Senegal,Serbia,Slovakia,USA,and Yemen.